Half Day Bali Tour
: Sightseeing Tour starting at 14.00, visit Orchid Garden, Batubulan, Taman ayun, Tanah Lot, tour finish at 19.00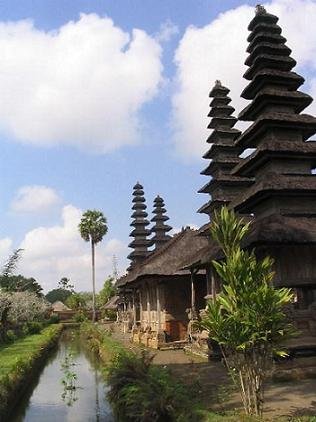 Visit Orchid Garden
One of the famous orchid gardens in located in the green belt next to Sanur which is built firstly in 1999. The entire place is serene and exhibiting various orchids bloom so beautifully. This botanical garden welcomes all kind of visitors, from individuals, privates, or groups. Local and international tropical plants can be found here, including Heliconia, Cordylines, Aroids, and many more. In souvenir shops, you can also bring some plants as souvenirs to bring home, or as gifts for your beloved friends with the flower boxes. The Bali Orchid Garden also provides such various services from landscaping, event organizers, to tours.
Batubulan
Batubulan is an agricultural village which gains fame for its arts activities including stone carving and dancing. The area is part of Sukawati district, Gianyar regency only approximately 10 kilometers from Denpasar city. All stone carvers from Batubulan are experts in making such artistic and adorable items that are mostly displayed in the houses, temples, resorts, hotels, or villas in Bali. When you enter the Batubulan village, you will catch the welcome stone building as the hallmark of Batubulan as the center of stone carving in Bali.
Pura Taman Ayun (Mengwi Royal Family Temple)
To reach Pura Taman Ayun you just need to drive for about 18 kilometers to the north from Denpasar city center, precisely in the midway between Denpasar and Singaraja. The site is a Royal Temple of Mengwi Dynasty built in the seventeenth century, boasting the wonderful temple building with typical roof as well as Balinese Architecture. The Pura Taman Ayun means the garden temple in the water. As one of the most prominent temple on the island, the Pura Taman Ayun is respected not only the divinities it was built for the first time for, also this sacred and beautiful temple is built for such great festivals and all religious events.
Tanah Lot Sightseeing
Speaking about Tanah Lot, anyone will think about the beautiful sunset, awesome rocky beach, and graceful beachfront temple. Tanah Lot temple was built around sixteenth century, seeming like an islet surrounded by the sea. Particularly when it comes to sunset in Tanah Lot beach, you will be mesmerized by the magnificent view of the sun descending into the horizon. Located in Tabanan regency, this area is reachable within 30 kilometers from Denpasar. As a must-visit site for all visitors, Tanah Lot also offers abundant of local souvenirs shops to shop at. The area is also renowned for great annual festivals and cultural events
Duration : approximately 6 hrs
Start : 08.30 am ( 5-6 hours)
Tours Include : English Speaking Driver+ Oil Petrol